Windows Phone 8.1 "shape writing" keyboard is the fastest in the world
4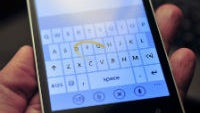 Microsoft has been working hard to bring the features that modern smartphone users expect from their devices with the Windows Phone 8.1 update. In addition to the Cortana voice assistant and new Action Center, one of those features is a gesture keyboard, which Microsoft is calling its "Shape Writing" keyboard. This may seem to be a relatively small addition, but the keyboard is still the main input method for most users, and a gesture keyboard can make that input faster.
Of course, faster is good, but
fastest
is even better, and that's what Microsoft says it has done with its offering. According to Microsoft, its new Shape Writing keyboard for Windows Phone 8.1 is on record as being the world record holder as the fastest keyboard. It seems that someone was able to swipe out a set sentence in just 17 seconds, which beat the previous record.
While that is very impressive, we're curious whether it is really the software that deserves the credit on that record. It would seem to us that the person whose hand swiped in the sentence should get the majority of the credit for their speedy arm muscles.