Windows Phone 8 getting new Facebook, Twitter, and Skype apps
6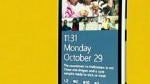 The Facebook and Twitter apps on Windows Phone have been something of a disappointment for users, so Microsoft has taken on the task itself to make the apps better. So, with Windows Phone 8, Microsoft has built new apps for Facebook, Twitter, and Skype.
Facebook and Twitter have already been integrated deeply into Windows Phone, and we found out during the developer preview that Skype would also get deep integration, which wasn't surprising given that
Microsoft now owns Skype
. But, for Windows Phone 8, Microsoft has updated the apps for all three services to better integrate with the OS, and have better overall performance.
We had seen before that the apps would all have
notification access on the lockscreen
, but there is more for Facebook and Skype. The Facebook app will allow users to access calendar events on the lockscreen, and have Facebook photos show on the lockscreen. Skype will be able to run fully in the background and receive messages and calls, and Microsoft claims that this will not drain the battery like a normal app running in the background.
source: Microsoft