Win a Samsung Galaxy Camera by snapping a photo of London or New York
0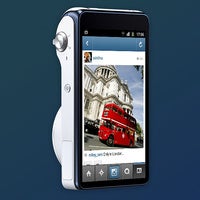 Psst, want to win a Samsung Galaxy Camera? Well, seriously, who wouldn't want to get their hands on this great little gadget? It is a supercharged point-and-shoot camera powered by the Android operating system, meaning that you can snap great photos and then share them instantly with your friends online. And maybe play a game of Angry Birds afterwards, just because you can.
On December 10, Samsung and Time Out magazine launched the "Share your Now" challenge, which asks New Yorkers and Londoners to submit their favorite photo of their respective home city. Each week, one photographer will be awarded a Samsung Galaxy Camera, and the grand prize winner will get to travel across the Atlantic. Of course, the winning photographs will be published in Time Out magazine. In fact, they will be featured on its cover! That ought to earn you bragging rights for quite some time.
So take out your snappers and go shoot some pretty photos of London or New York! Then follow the link provided below to learn how you can submit your best shot. Who knows, perhaps Time Out readers will pick you as their favorite. The competition will run through March 4, 2013.