Which smartwatch/fitness band manufacturer sold the most at Best Buy last month? Find out here
26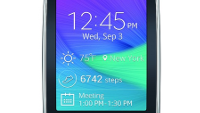 A new online service called Jeeq Data LLC tracks which products are the top sellers in several categories at specific retailers. One of the stores that the service tracks is big box electronics retailer Best Buy. And one of the products it follows is wearables. So, we now have an idea which manufacturers sold the most smartwatches/fitness bands at Best Buy last month.
According to the chart, a bit more than one out of every three smartwatches/fitness bands that was sold by Best Buy in April was branded with the Samsung name. More specifically, 33.94% of these devices were manufactured by the Korean firm. Best Buy offers a wide assortment of Samsung timepieces including the stand-alone Samsung Gear S, which it sells with an AT&T voice and data plan. It also sells the Samsung Gear Fit, which is a combination of smartwatch and fitness band. The
Samsung Gear 2 and the Samsung Gear 2 Neo
are both available, as well
.
After Samsung, the soon to be public Fibit garnered 20% of Best Buy's wearable sales for the monh. And not that far behind Fitbit was Motorola. The Moto 360 accounted for 17.88% of these sales in April. And we should mention that the Microsoft Band finished fourth with a 12.73% slice of the pie. Rounding out the top five was Pebble. The Kickstarter superstar accounted for 9.39% of the smartwatch and fitness band sales at Best Buy in April.
On a daily basis, Fitbit was a steady performer for the month, while Samsung sold well during the beginning and the end of April.
source:
JeeqDataLLC