Which live video broadcasting service do you use?
4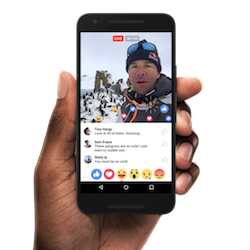 In the world of social media, popular features tend to get copied from some services and then implemented into other ones. Instagram recently took a hint from Facebook and added the ability to like/favorite user comments, Twitter adopted Facebook's poll feature, and Instagram quite blatantly copied Snapchat with their own version of Stories and the ability to send instantly disappearing photos and videos to your followers.
Right now, the act of live streaming whatever it is you might be doing has gotten quite popular between all social networking platforms. Services like Periscope and Meerkat first introduced the idea of live broadcasting your life, and since then, YouTube and Facebook have taken this same idea and made it incredibly popular. Both Twitter and Instagram just introduced the ability to share live streams of your life on their own platforms as well, reinforcing the idea that this aspect to social media is here to stay.
Live video broadcasts certainly are interesting, and while the idea and practice is still in its infancy, it could quickly become as popular and commonplace as watching a prerecorded video on YouTube. With this trend only getting more and more popular as of late and showing no signs of dying, it got us to wondering...