WhatsApp down at the moment in Europe and parts of the U.S., Canada and South America
6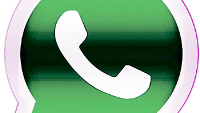 Most likely a result of heavy New Year's Eve messaging traffic, WhatsApp is currently down. While we received a email from a reader in India who told us that the app was not working in the country, other reports indicate that the app stopped working globally at 11:28am EST and remained off for 39 minutes before service resumed. But then, a second outage started and the service remains down.
Areas where WhatsApp's service is down include much of Europe, the east coast of America, Canada and South America. Even if a WhatsApp subscriber has a working Wi-Fi or cellular connection, the app apparently fails to connect to the internet. The website Downdetector.co.uk shows a surge in the number of WhatsApp outages reported in the last 24 hours in the U.K., from four Wednesday afternoon to over 5000 today.
A satellite map that tracks WhatsApp shows a large area in Europe that is affected by the outage, and the small pockets along the eastern U.S. where the service is down.
WhatsApp released an official statement to the Daily Mail in the U.K. which states, "Some people have had trouble accessing WhatsApp for a short period today. We're working to restore service back to 100% for everyone and we apologize for the inconvenience." Facebook closed on its acquisition of WhatsApp in October 2014
with the final price reaching $21 billion
.
source:
DailyMail