Watch the Oukitel U7 Pro used as a cutting board without damage to the screen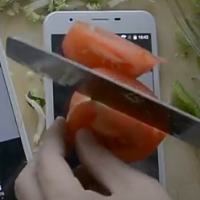 Ever since the
Motorola DROID Turbo 2
was
launched with a shatterproof display
, some of the smaller Chinese smartphone manufacturers have taken to YouTube to show off their strong screens. The other day, we saw the
Bluboo Xtouch with a concrete slab on top of it
while a heavy hammer cracked the concrete in two. Result? The screen remained pristine. Yesterday, we showed you some
DROID Turbo 2 drop tests, including one from 50 feet
(spoiler alert: the screen survives although the phone doesn't).
Today, we have some video of the Oukitel U7 Pro that shows its 5.5-inch display under attack from a packing knife, without suffering any damage. Before you know it, the phone is turned into a cutting board. Enough vegetables are sliced and diced to produce salad for a large number of diners, and yet there are no scratches or marks on the screen.
The aforementioned 5.5-inch display on the Oukitel U7 Pro features 2.5D curved glass and a 720 x 1280 resolution. The phone is powered by the MediaTek MT6580 SoC, containing a quad-core 1.3GHz CPU. The model is
also available with a built-in projector
, beaming content from the screen onto the walls or ceiling of your home and office at 50 lumens.
Make sure you've already had lunch or dinner before you watch the video. Otherwise, you might find yourself running either to the fridge or the phone. You might head to the former to make your own giant salad, or use the latter if you have a sudden craving to make a reservation at Benihana.
source:
Oukitel