Motorola Droid Turbo 2 drop tests are here: see Moto's shatterproof screen vs. the competition
23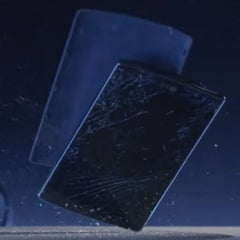 Motorola already showed us
how tough its Droid Turbo 2 is
, but it's obviously not done with showcasing the merits of the new handset. That's understandable, since the Turbo 2 is presented as the world's first smartphone to come with
a display that's guaranteed not to crack or shatter
for 4 years.
To show us once more how durable the screen of the Droid Turbo 2 is, Motorola today released a video (embedded below) presenting proper drop tests - including not just the new Turbo, but also some competing smartphones: Apple iPhone 6s, HTC One M9, LG G4, Samsung Galaxy S6, Samsung Galaxy S6 edge, and Samsung Galaxy Note 5.
All phones were dropped from 5 feet (1.5 meters), face down, on a surface made out of concrete and sandpaper. All screens shattered, except for the one of the Motorola Droid Turbo 2.
As you can see in the second video embedded below - not made by Motorola - the shatterproof display of the Droid Turbo 2 even survived 50 feet (15 meters) drops. However, the handset itself stopped working (which would probably happen to any smartphone dropped from 50 feet anyway).
Mind you, dropping the Droid Turbo 2 just to see if it breaks is not advisable: the phone's body will most likely be damaged, since Motorola's shatterproof guarantee is related only to the display.
The Droid Turbo 2 is currently
available only in the US
, exclusively via Verizon Wireless. The handset will be released in other markets, including Europe and Asia, as the
Motorola Moto X Force
.