Watch as all Apple iPhone models face each other in a speed test
44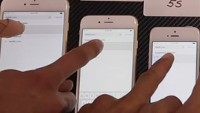 We know that the new
Apple iPhone 6
and
Apple iPhone 6 Plus
are the biggest and fastest iPhones, but wouldn't it be interesting to see all of the iPhone models battle in a speed test? Who knows, there just might be a surprise or two. Since most of the devices shut down instantly, things don't get interesting until the boot-up test.
So which iPhone boots-up first? The
Apple iPhone 5s
is the first to be all ready for you to use. After that, comes the new
Apple iPhone 6
and the
Apple iPhone 6 Plus
. The original
Apple iPhone
is surprisingly next. The
Apple iPhone 4
is last. Since each phone was loaded with the latest version of iOS that it supports, the Apple iPhone 4 in the video has iOS 7 installed. Apple wanted to keep this model around as long as possible, so it does run iOS 7 even though it's a strain on the hardware.
Each model was then put through the Geekbench test (except for the OG iPhone and the
iPhone 3G
, which didn't support it. There were no surprises with the results of the test. By the way, it took 15 minutes for the
iPhone 3GS
to complete the test, versus less than a minute for the iPhone 6 Plus. The browser speed was tested next, as each iPhone was asked to render the Reddit website. The newer iPhone units completed the task in an instant.
The OG iPhone featured a single-core 412MHz processor and offered 128MB of RAM. The Apple iPhone 6 Plus and the Apple iPhone 6 each have a dual-core 1.4GHz processor and 1GB of RAM on board, showing you how far the handset has come. Even if you don't own an iPhone, you have to admit that there is something fascinating in watching ten different versions of the device in action. For those interested, the same people
ran a similar speed test
nearly a year ago.
source:
EverythingApplePro
via
RedmondPie