Walmart permanently cuts the Apple iPhone 5c to $29, Apple iPhone 5s to $99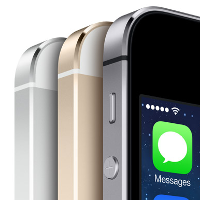 Looking to buy the
Apple iPhone 5s
or
Apple iPhone 5c
? Starting tomorrow at 9am local time, your neighborhood Walmart store will be offering both iPhone models at a discount. With a signed two-year contract, the plastic-coated iPhone 5c will cost you $29, down from $49. The full-featured Apple iPhone 5s can be yours for $99 on-contract. That knocks $50 off the price of Apple's current flagship smartphone.
Late last year,
Walmart sold the iPhone 5c for $27, and the iPhone 5s for $127
. However, the new prices are said to be permanent and are available only at Walmart brick and mortar stores. The discount prices are for the 16GB version of the phone. While the 32GB variant of both the Apple iPhone 5s and the Apple iPhone 5c will also be discounted, the new prices for those models are unknown at this time.
We have to assume that by making these new prices permanent, Walmart is beginning to lighten its inventory of the two iPhone models in preparation for the new 4.7 inch
Apple iPhone 6
, and the 5.5 inch Apple iPhone phablet, both expected to be released later this year.
source:
Engadget