WP-exclusive Dark Lands might arrive on iOS and Android thanks to a Kickstarter campaign
2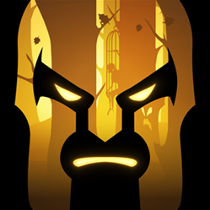 Dark Lands, a game that is currently exclusive for Windows Phone devices, might land on the other major mobile platforms if the developers succeed in obtaining the necessary funds via a Kickstarter campaign. Dark Lands is a side-scrolling action-packed arcade game that comes with a rather interesting graphical style. The title has received mostly positive reviews from Windows Phone users and has been downloaded several hundred thousand times.
You play as a hoplite, who has to "run through enemies and dangerous traps". It seems that the game is somewhat inspired by the Greek mythology, as you have to exterminate a wide variety of imaginary enemies, such as minotaurs, ghouls, skeletons, and other macabre creatures. Apart from the nasty foes, players have to dodge various traps and obstacles. However, enemies can be lured in these, so the traps are an important part of the gameplay.
But the most interesting thing about Dark Lands is its specific graphical style. Much like Badland, the protagonist, the enemies, and everything in the foreground are mostly black. This creates a contrast with the brightly-colored background and creates a gritty, rather unique atmosphere.
Mingle Games, the developer of Dark Lands, is trying to raise as much as $10,000 via a Kickstarter campaign, which ends in 11 days. At the time of writing, a little over $4,000 have been raised. Mingle Games promises that the iOS and Android versions of the game will sport even more content than the Windows Phone one and backers will receive lots of rewards. You can check the Kickstarter page for Dark Lands at the source link.
Dark Lands is free to download and play, comes with no in-app purchases, and the developer claims that the mobile versions of the game will always remain free.
Download:
Dark Lands
(Windows Phone)
Dark Lands screenshots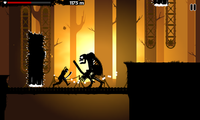 source:
Kickstarter
via
PocketGamer