Vodafone stores in the U.K. get BlackBerry Bold 9900 dummy units
2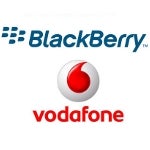 Ah, the BlackBerry Bold 9900/9930. We haven't seen such a build up for a 'Berry since the
ill-fated launch of the BlackBerry Storm 9530
for Verizon in November 2008. This time, RIM is literally dying to get it right. Back when the Storm was launched, RIM had just one major competitor in its sight, the Apple iPhone, and the Canadian based manufacturer ended up releasing a product with an OS that was
half-baked
. Still, the anticipation leading up to the launch of the first touchscreen BlackBerry was sky high.
Now, RIM finds itself not only taking on Apple, but a myriad of Android manufacturers as well. With the company's future on the line, RIM went back to the form factor from the BlackBerry Bold 9000 that received high marks, made the dimensions thinner, and widened an already amazing QWERTY keyboard by 6%. Adding the new BlackBerry 7 OS and a browser called one of the "elite" by RIM, it would appear that the BlackBerry Bold 9900 has been
designed to compete with the two A's
-Apple and Android.
The last word on a possible launch date came from RIM's own co-CEO Mike Lazaridis. As we
reported
, at a recent Stockholder's meeting, the executive told those attending and listening online, that the BlackBerry Bold 9900 was a
month from launch
. That took place on July 12th which means we are closing in on the launch of the device. And right on cue, Vodafone UK retail locations are beginning to receive the dummy units of the handset which usually means that we are
not that far away from the launch
of the phone
that has been charged with saving RIM.
This is going to be a major test for the BlackBerry name. Had the Bold 9900 been rolled out, say, 6 months ago, it might have been a huge winner for RIM. As it is, the model will probably still do exceptionally well among BlackBerry users. But if RIM is going to make waves against the competition, it is going to have to grab some converts to its platform. The problem is that the new Berry will be going up against the
hottest smartphone of this summer
, the Samsung Galaxy S II. And according to rumors that
we passed on
to you, the next gen Apple iPhone 5 could hit the market as soon as September 5th in the U.S. and October 5th for the rest of the world. And in the States, there is a wild card in the mythical Motorola DROID Bionic, quite possibly being launched the first week of next month.
With the release of the dummy units of the BlackBerry Bold 9900 for Vodafone UK, we are getting closer to what arguably is the
most important launch
in RIM's history.
source:
Crackberry