BlackBerry Bold 9900 a month away from launch says RIM co-CEO Lazaridis
6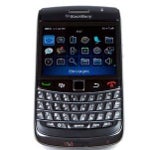 At RIM's annual stockholder's meeting held on Tuesday, co-CEO Mike Lazaridis told the gathering that the launch of the BlackBerry Bold 9900
is about a month away
. The Canadian based company is putting a lot of hope on both the Bold 9900 and its CDMA cousin, the Bold 9930. The phone has the same form factor as the BlackBerry Bold 9000
which was lauded when it first was launched
for its feel "in hand". The QWERTY keyboard on the Bold 9000 is considered one of the best ever and is also being copied on the new units, although it will be 6% wider on the Bold 9900.
The BlackBerry Bold 9900 is the first device running on the
new BlackBerry 7 OS
and has a new browser faster than the one seen on the BlackBerrry Torch 9800, and also has no problem with JavaScript which is a change from past BlackBerry browsers. Just to make sure that everything goes perfectly, the device went through 491 certification programs and 191 carriers. Lazaridis said that the launch for the Bold 9900 will be the
largest global launch
in the history of the Canadian based manufacturer.
The stockholder's meeting also brought forth an admission from RIM that it is not familiar with "
pure retail
". A group attending the meeting confronted Lazaridis with pictures showing how the BlackBerry PlayBook tablet was getting
inferior placement at Best Buy
compared with competing tablets like the HTC Flyer, the Apple
iPad and the Acer Iconia Tab
. The co-CEO admitted that the tablet has had a poor launch. He said that RIM was used to selling BlackBerry devices through a carrier, not directly to stores as it did for the first time ever with the Playbook.
With strong hopes for the BlackBerry 9900 Bold, the executive tried to
inspire some confidence
in the company. "
We will get better
," he said.
source:
electronista