ViewSonic shows off 7" ViewPad E70
3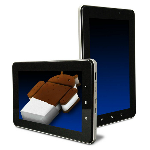 Just in case you haven't had enough news recently about Android tablets, we've got another one for you. This time it's from ViewSonic and it's part of the budget category of devices. The ViewSonic ViewPad E70 is a 7" tablet running Ice Cream Sandwich, and due out in late Q1 of this year for just $180.
Unfortunately, that's where the good news ends. Sure, the tab is under $200, but for that you're getting an Ice Cream Sandwich tablet which still has capacitive buttons for some strange reason, and the innards are just as strange. The E70 has a 1 GHz CPU (no word on cores, but we're assuming single), and just 4 GB of storage. It will be capable of 1080p out through an HDMI port.
Overall, if you're in the market for something cheap, this may be it. But, we'll wait and see what the pricing on the
Asus Eee Pad MeMO
comes out to be, since that is scheduled for release just a couple months later and has far better specs.