Asus announces 7" Eee Pad MeMO tablet
1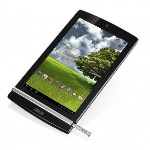 In addition to the announcement of the redesigned and upgraded Transformer Prime, Asus has announced the release window for the 7" Eee Pad MeMO tablet, about which we had seen
leaks just last week
. Of course, we originally saw this
tablet at CES 2011
, when it was announced with a scheduled release of Q2 2011. That never happened, but maybe this is the year for the MeMO to finally hit the market.
Unfortunately, this announcement doesn't really bring too much new information. All of the specs we saw last week have panned out. It is still the same 7" 1280x800 IPS display, Qualcomm 8260 Snapdragon dual-core processor clocked at 1.2 GHz, 1 GB of RAM, 5MP rear camera, 1.2 MP front camera, stylus etc. One nice piece of new info is that the MeMO will be shipping with Ice Cream Sandwich, although the announcement claims it will be Android 4.0.1, which is odd, since Google has said that 4.0.3 should be the baseline version.
Asus has said that the 7" Eee Pad MeMO will be out in Q2 2012, but there hasn't been a price put on it yet. Given the specs though, we would be pretty shocked to see the 16 GB version any higher than about $350 to $399.