Video shows off more of the BlackBerry PlayBook and the views of Mike Lazaridis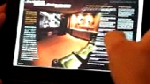 RIM Co-CEO Mike Lazaridis took some time to sit down for another interview following his appearance at the D: Dive into Mobile conference. During this more casual talk, the executive gets another chance to show off the buttery smooth goodness of the BlackBerry Playbook, answers some questions, and manages to talk his way around answering others.
Lazaridis says that BlackBerry's tablet differs from others because of the professional operating system in the PlayBook which allows for a multitasking environment. He pounds out the idea that RIM's tablet works the way people work, constantly switching from one thing to another. When put on the spot about how long it will take for the QNX platform (which runs the BlackBerry PlayBook) to move to 'Berry smartphones because "BlackBerry doesn't do the things that people want from a smartphone today," the CEO manages to evade answering the question.
Even if you have seen video of RIM's tablet before, it is interesting to hear the views of an Industry leader who is obviously proud as punch about the device he is about to unleash on the business world. And make no mistake about it, while the other tablet manufacturers have been positioning their product as a larger entertainment tool to use in place of a handset, Lazaridis sees the BlackBerry PlayBook as a business tool that works with the BlackBerry handset.
source:
AllThingsDigital