Video demonstration highlight the HTC Desire HD & highlights the new Sense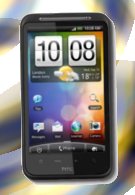 Were you left thirsty for more after
reading about the HTC Desire HD
which is going to be unveiling the EVO-like form to the rest of the world alongside an updated Sense experience?
Well, it looks as though you're going to be in for a treat today because HTC just recently put out a lengthy video showing off the upcoming handset and some of its features. Not only does it tastefully describe all the wonderful specs that accompany the HTC Desire HD, but we also get a glimpse of how HTCSense.com comes into play in our daily lives.
Check it out if you're yearning for some additional exposure to the upcoming handset while we all wait for its eventual arrival in the flesh.
HTC Desire HD Specifications
|
Hands-on
via BGR