Video: Slickwraps has launched the Samsung Galaxy S6 into the upper levels of the stratosphere
6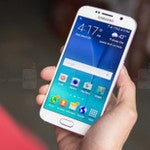 If you've got a passion for both outer space and smartphones, this one might rock your boat. Slickwraps, a Kansas-based company that manufactures colorful wraps for most major smartphones out there, recently launched the
Samsung Galaxy S6
into the upper levels of stratosphere, and has the video to prove its achievement.
Slickwraps used a balloon to send a Samsung Galaxy S6 unit covered in the company's natural bamboo skin up to 122,264 feet (37,266m), high enough that the curvature of the Earth was visible on camera, as was the deep darkness of outer space. Once the smartphone reached this height, the balloon that carried the handset started its descent, with the phone landing on the ground a few good minutes later.
Slickwraps says that the Galaxy S6 reached speeds of up to 110 mph (177 km/h) and withstood temperatures as low as -65F (-54C) during its journey. The handset flew through 111 miles (233km) of total distance, and it took three hours for the Galaxy S6 to go to the upper stratosphere and then back to the ground, where it landed pretty rough. Interestingly, the smartphone was still functioning properly at the end of the day.
Commenting to the YouTube video that you can catch below, a Slickwraps representative mentioned that an
iPhone 6
was also on board the balloon, serving as a secondary GPS system via Find my iPhone.