Verizon launches RAZR2 V9m next Wednesday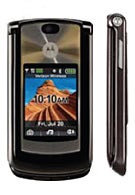 Motorola RAZR2 V9m
is about to be released for Verizon starting next week. Beginning on August 29th, the V9m will be sold exclusively on www.VerizonWireless.com. Then on September 4th it be available for purchase at Verizon Retail locations.
Originally, the Verizon Press Release from August 10th stated that the V9m would be sold for $299 after a $50 rebate (under a 2-year contract).Later that same day, Sprint announced it would also be selling the V9m, but at a lower $249 price. This week the Sprint V9m went on sale at the $249 price. Because of the lower Sprint price, and to be competitive, Verizon has decided to increase their Rebate from $50 to $100.
The Verizon V9m will have the following pricing:
$349 - $100 Rebate = $249 with 2 Year Contract (NewEvery2 Customers get an additional $100 off)

$399 - $100 Rebate = $299 with 1 Year Contract
$469 Full Retail (no contract and no rebate)

Thanks Omie!