Verizon Holiday Deals: Google Pixel 3, Moto Z3, iPhone 6s, and other devices get price cuts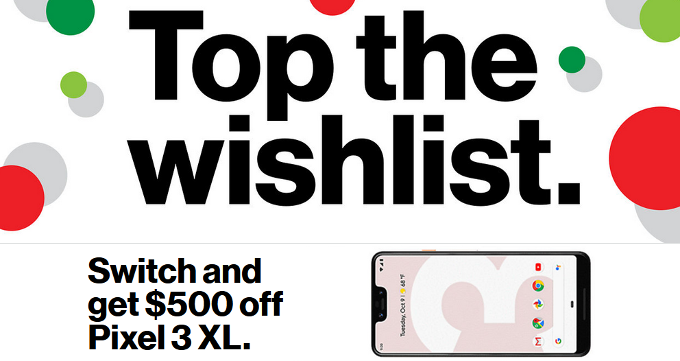 If you're planning to buy a new Verizon smartphone this Christmas - either for you or as a gift for someone else - you're in luck. As part of a Holiday Deals promotion, Verizon Wireless is currently offering plenty of its phones at reduced prices, albeit only with monthly device payments for 24 months.
Folks in need of a high-end flagship handset can save $200 on a Verizon
Google Pixel 3
or
Google Pixel 3 XL
, no trade-in required ($200 promo credit applied over 24 months). This means that a Pixel 3 can be had starting at $599.99 instead of $799.99, while the Pixel 3 XL starts at $729.99 instead of $929.99. If you trade-in an old handset and add a line or switch to Verizon, you can save an additional $300 on any of the two new Pixel phones (for a total of $500 in savings).
Other deals currently available at Verizon include:
$240 off Motorola Moto Z3, new line required
$230 off Apple iPhone 6s, new line required (online only)
$89 off Apple iPhone 6s Plus, new line required
$100 off Samsung Galaxy S8, new line required (online only)
$120 off Samsung Galaxy J5, new line required
$50 off the Palm companion handset, or $100 off with purchase of any other smartphone
Free Samsung Galaxy J3 V, new line required (must be active for 24 months)
$50 off select tablets: Apple iPad 9.7, Samsung Galaxy Tab S4, Asus ZenPad Z10, and Verizon Ellipsis 8 HD
On Verizon's Holiday Deals webpage, you'll also see that the carrier takes $300 off new iPhones (iPhone XS, XS Max, and XR), or $300 off select high-end Android phones when you switch and trade-in a handset. However, we wouldn't call these "deals", because Verizon - like all other carriers - will value any smartphone that you want to trade in at a much lower price than you could get when you're selling it yourself.
Recommended Stories