Updated Weight Watchers 360° app launches for iOS and Android with Snap&Track
1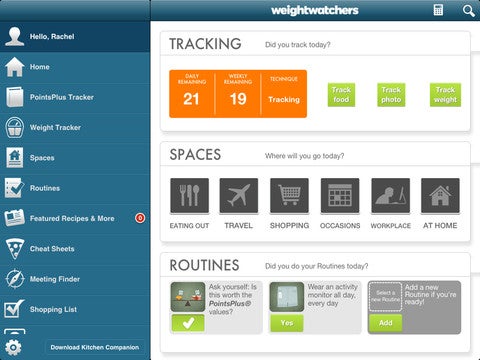 You know Weight Watchers, right? The hugely popular keep-your-calories-in-check program, that has saved quite a few people from blowing up into the obese category.
In line with the times, it now has a brand new iOS and Android app, called Weight Watchers 360°, so, as you can easily guess from the name, the company deems it to be a complete solution for the uninitiated.
Here's the rundown of the Weight Watchers 360° features update:
Snap & Track:
To make tracking healthy food choices even easier, members can use the app's Snap & Track feature to take a picture of their food and drinks that will integrate right into the app's PointsPlus® tracker. Members have three options for their photos: save to track later, assign a "Quick Add" value, or add all the foods and their corresponding portion sizes in that meal and let the app calculate the PointsPlus value. Photos can also be saved as a "favorite" to quickly use on future days and can easily be recognized throughout the app by the camera icon. Members can also share the photos through Twitter, Facebook, e-mail, and within the Weight Watchers community.
Spaces:
The new app also helps members to set up smart-choice strategies and action plans to take control in different environments and situations (e.g., eating out, travel, shopping). Users can easily browse six Spaces categories to find trouble spots and learn to manage them, personalize a collection of tips by flagging the most helpful ones, and quickly regain control during a "Panic Moment" where straying from the Program may seem like the only solution.
Routines:
To help members learn to establish healthy routines that can become second nature, the app allows users to select up to three tasks to do daily from an assortment of 16 powerful routines. With routine details, progress reports, and completed check-ins only one screen tap away, this feature helps to take the guesswork out of helping to make healthy choices become second nature.