UPDATE:Now Official: BlackBerry Tour to be released by Verizon on July 12th; pre-orders accepted now
7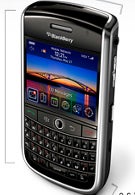 As expected, Verizon has announced that it will be launching the BlackBerry Tour 9630 on July 12th, although pre-orders are being accepted now. The price tag is exactly what we expected, $199.99 with a two year contract. The Tour is a 3G capable World Phone device without Wi-Fi connectivity. If Wi-Fi is a deal breaker for you, a leaked copy of the Verizon BlackBerry Road Map
shows
that all 'Berry models released by the carrier after the Tour will offer it. Some of the features on the handset include a 3.2MP camera with AF and video capture, 3.5mm audio jack, GPS, a 35 button QWERTY keyboard and a trackball.
As we previously
reported
, after Verizon goes ahead on the 12th of next month, the next launch of the Tour is expected to be by Bell on July 15th, followed by Sprint's version on July 20th.
RIM BlackBerry Tour 9630 Specifications
source:
Verizon
*UPDATE*
The BlackBerry Tour is dominating the news right now. It appears as though a fourth carrier will be offering the device as Crackberry has been able to get their hands on pictures of an Alltel branded 9630. No word on launch date or pricing info.
source:
Crackberry