UPDATED:Wind Mobile brings Motorola's Motoroi to North America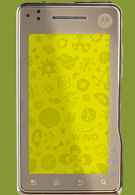 Oh Canada! Canadian carrier Wind Mobile has become the only mobile operator in North America to offer the Motorola Milestone XT720, known as the Motoroi. With its distinctive bulge on the right side of the device, many of you might remember seeing photographs of this phone last year. The unit is offered with Android
2.1
and is equipped with a 3.7 inch WVGA screen, an 8MP camera with Xenon flash and 720p HD video capture. The handset also features HSPA 3G over AWS bands and Wi-Fi. Unavailable anywhere else on the continent, Wind has priced the phone at $430 after a $20 rebate, at the top of the carrier's price scale. The rebate expires at the end of this month.
Will the Motoroi be seen south of the border in the U.S.? If the device does make it through customs, T-Mobile would be the likely destination considering the AWS connectivity on the device. Want to see the Motoroi in action? Check out the video below of the Korean version of the phone.
Motorola MILESTONE XT720 Specifications
|
Review
source:
WindMobile
**UPDATE**
You can always leave it to our sharp-eyed readers to let us know when something isn't right. Despite printed information that states otherwise, it seems that the XT720 is available in the U.S. from Cincinnati Bell. Thanks for the heads-up!