UPDATED:Motorola CLIQ on sale now for T-Mobile customers, November 2nd for the rest of us
1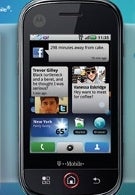 Here is a pleasant change. We were
expecting
October 19th to be the day when the Android powered Motorola CLIQ would be available for pre-orders at T-Mobile. Instead, the carrier is offering the social networking powerhouse to its' own customers now. Overseas, where the handset is known as the DEXT, the unit has already been on sale. T-Mobile customers will have a little exclusivity period of their own until November 2nd, which is when the nation's forth largest carrier will put the CLIQ on sale for anyone who wants one, T-Mobile account or not. The price is $199.99 with a 2 year contract. With the MOTOBLUR UI keeping users connected to sites like Twitter, Facebook and MySpace, T-Mobile customers will be bragging to their friends all about their new handset.
Motorola CLIQ Specifications
source:
T-Mobile
via
EngadgetMobile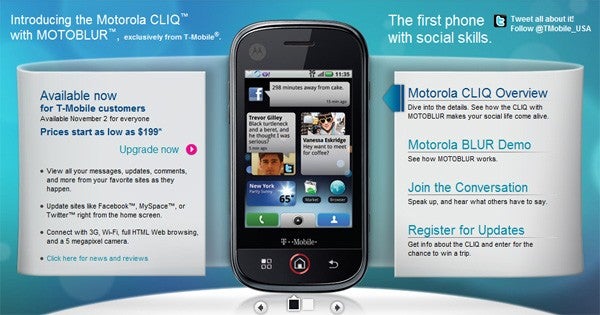 *UPDATE*
T-Mobile has issued a press release confirming that they are shipping out the Motorola CLIQ to existing customers as orders are received. Orders can be placed at www.T-Mobile.com/CLIQ or by calling a T-Mobile rep at customer care. Those ordering before November 2nd will recieve a free car-charger. In addition, T-Mobile customers that register at the web site to receive updates on the CLIQ before November 2nd are automatically entered into a contest where the Grand Prize is a trip with 5 friends (your faves, perhaps?) to one of 4 select locations.
source: T-Mobile