Typical U.S. Apple iPhone user downloaded 45 apps last year, up 10% from 2016
7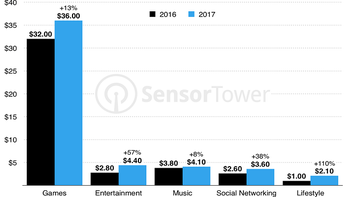 According to the latest data from app researchers
Sensor Tower
, the average U.S. Apple iPhone user spent an estimated $58 on apps last year, up 23% or $11 from the $47 spent back in 2016. The app category that received the most money from stateside iPhone users was mobile games. These apps accounted for 62% of 2017 app purchases made by those sporting Apple's iconic smartphone.
The average U.S. iPhone user purchased $36 worth of mobile games from the App Store last year, up from $32 in 2016. Spending on entertainment apps in 2017 surged 57% last year, allowing it to overtook music related apps for second place. Social Networking and Lifestyle were fourth and fifth, respectively. It should be noted that Lifestyle apps were red hot last year as the average U.S. iPhone user spent $2.10 for apps from that section of the App Store. That was more than double the $1.00 shelled out on average in 2016.
In 2017, a typical iPhone user in the states installed 45 apps, four more than the 2016 average. Based on the number of apps downloaded and not revenue, the mobile games category was still on top (13.1 games installed per iPhone last year) followed by photo & video (3.6 per iPhone), Entertainment (3.1), Social Networking (2.9) and Utilities (2.4). Of the top five categories, the only one showing a year-over-year decline in downloads was photo & video, which had 10% fewer apps installed last year.
The average U.S. iPhone user installed a bit over 13 mobile gaming apps on his handset last year"&nbsp
source:
SensorTower