Tunable for Android is a musician's one-stop shop: tuner, metronome and chord generator
1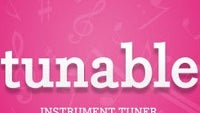 Tunable, a new app on the Google Play store aims to help both beginning and professional musicians with fine tuning their musical instrument, and it brings a level of polish and depth that will definitely be appreciated.
Instead of having to deal with a separate tuner and/or metronome, Tunable has all those features built into your smartphone. It also brings a very neat sustained pitch meter that will help you hold out a steady note with either your voice or instrument. The app comes with a simple metronome that is large and simple to use as well.
Overall, Tunable seems like one of the better music apps on Google's Play store. The full feature list is right below and if you like what you see good news is the app is on a 50% sale right now. Check it out at the source below.
Tunable features:

Tuner
• Large, colorful tuning indicator clearly shows when in tune (green fills the screen)
• Clear, visual tuner with note, octave, cents (+\-), and frequency (hz) display
• Tuning history to see how well you're sustaining notes over time
• Especially suited for wind instruments and strings with note detection from Tuba to Piccolo (24hz to 15khz+)
• Horizontal and vertical tuning displays
• Adjustable A=440 reference tone
• Change between equal, just, pythagorean, and 18 other tuning temperaments

Tone and Chord Generator
• Chromatic Tone Generator with multiple tone options and sustain
• Play and sustain chords
• Auto Octave rounding for easy note access

Metronome
• Large number display with visual flash to see the downbeat, subdivision, and pulse
• Adjust tempo, beats per measure, and subdivision
• See tempo markings to quickly jump between standard tempos
• Tempo Tap (tap metronome center to set a tempo)
• Continues to play when screen is locked or in the background

Other
• Highly accurate (1/100 of a cent) and responsive
• Transpose notes to any instrument
• Dark and light themes