Trade in your Apple iPhone 4S or iPhone 4 toward an Apple iPhone 5 through Sunday at Best Buy
7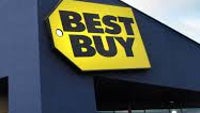 You might
remember the deal that Best Buy had a few weeks ago
. At that time, you could trade in your working
Apple iPhone 4
or
Apple iPhone 4S
and get a gift card for $150. Thanks to a $50 discount, that turned out to be exactly the price of the 16GB
Apple iPhone 5
at the big box retailer. Essentially, you were trading in your Apple iPhone 4 or Apple iPhone 4S for the Apple iPhone 5. As you can imagine, Best Buy stores were inundated with people willing to part with their old iPhone for the latest model. We took a trip to a Best Buy store to see how the sale was doing and there was a 2 hour wait at the time.
Best Buy has a new deal that runs from now through Sunday, and this time only the iPhone 4S will bring you enough in trade for a free Apple iPhone 5 (before taxes). Bring in a working iPhone 4S and receive a $200 Best Buy gift card which you can use immediately toward the purchase of a 16GB Apple iPhone 5 for $199.99 with a signed 2-year pact. Trade in your Apple iPhone 4 in working condition and receive a $100 Best Buy gift card that you can use toward an Apple iPhone 5 purchase. The deal is good through Sunday.
Perhaps the previous offer was too successful which might explain why this time around Apple iPhone 4 owners are getting a gift card valued at $100 instead of $150. Additionally, the price of the 16GB Apple iPhone 5 is now priced at $199.99 with a signed two-year contract instead of the $149.99 it was tagged at back in June.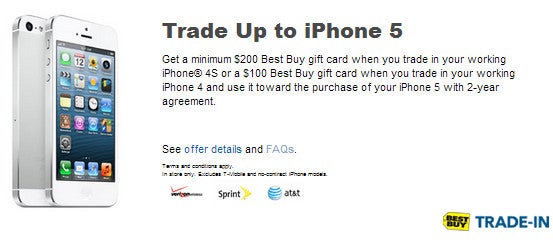 Now through Sunday, Best Buy will give you a $200 gift card for a working Apple iPhone 4S and a $100 gift card for the Apple iPhone 4
Thanks Suzanne F.