Tracking error with white Nexus 4 is nothing to worry about says Google
4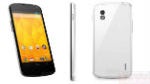 A few people who had ordered the newly released white Nexus 4 had some tracking trouble recently, but according to Google, there's nothing to worry about. Still, it was an annoying issue for those affected. Apparently, Google sent the wrong tracking information to a number of customers, and in an effort to fix the problem, the tracking info listed the shipment as being returned to sender.
The thing is that none of the shipments are actually being returned, says Google. Google has been sending out emails to those effected, which states:
A small number of customers were sent a ship confirmation with an incorrect tracking number on 5/31 and 6/3. In these cases the incorrect tracking number may indicate that the package is being returned to sender.
Please disregard this tracking number. Another ship confirmation with the correct tracking number will be emailed to you within 24 hrs. Please reference the tracking number in the 'Thank You' section of the ship confirmation.
Please rest assured that your package's arrival date is unaffected by the incorrect tracking number.
So, if you noticed something about your Nexus 4 being returned to sender, keep an eye out, because it may still be on your doorstep soon.
Recommended Stories