Top 10 fastest Android phones for Q3 released by AnTuTu, and the winner is...
52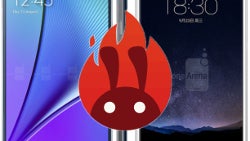 The popular cross-platform AnTuTu benchmark has quietly released its quarterly smartphone performance rankings, and it's been a true Exynos fest over there in Q3.
While it's not exactly news for anyone following the mobile chipset industry, Samsung's 14nm chipsets are screeching fast, and it shows - the first five handsets in the ranking are powered by the
Exynos 7420
. Next in line are five phones with Snapdragon 810, as can be expected, but it's the one that topped the chart that is the newsworthy piece here.
The new
Meizu PRO 5
wouldn't be the first phone that comes to mind to associate with top places in any synthetic speed rankings, but it is indeed powered by Exynos 7420, and since it has a 1080p display, unlike the rest in the top 5 that have 1440p panels, it's only logical that the Meizu PRO 5 would
top the chart
with the amazing 76852 points average score on AnTuTu.