TomTom's new watches combine GPS with a heart rate monitor for more precise training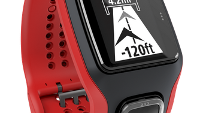 TomTom announced on Wednesday, a couple of new watches that combine GPS with a heart rate monitor. This makes it easier to train with your heart pumping away in the optimal zone. The Runner Cardio GPS sport watch allows a user to select one of five different intensity settings based on their training goals. The heart rate monitor will alert the user to whether he needs to speed up or slow down to meet the optimal heart rate of the desired intensity. The five settings are
Easy
, for warming up and cooling down;
Fat-burn
which is a moderate tempo training for weight loss;
Endure
, which is moderate to high tempo training to improve the capacity of your heart and lungs;
Speed
, which is high speed training to improve speed and fitness; and
Sprint
, which is used for interval training.
The process employed by the watch to measure a user's heart rate is interesting. The watch uses an optical sensor to shine a light through your skin to monitor blood flow. Available in black or white, you can pre-order the TomTom Runner Cardio for £249. 99 ($416 USD). The watch is waterproof to 165 feet, and the GPS records the path you've taken so that you can review it later. It will also count the number of strides taken on a treadmill.
"Once again, TomTom is making innovative technology accessible to everyone. We know that heart rate monitoring is the single most accurate way to understand how the body is responding to exercise. Now, with the launch of the Runner Cardio, all runners can easily use heart rate training to improve their performance."
-Corinne Vigreux, managing director, TomTom Consumer
Slightly more expensive at £279. 99 ($466.66 USD), the TomTom Multi-Sport Cardio also has GPS and a heart-rate monitor, and does everything the Runner Cardio can do. But it also has features useful for more than just running, such as cycling and swimming as well.
Check out the slideshow below for a video about each watch.
source:
TomTom
via
Engadget