This coming week's T-Mobile Tuesday is about pets and BBQ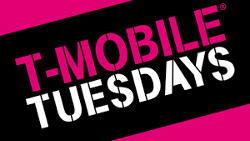 It's almost here. The next T-Mobile Tuesday is just a few days away, and customers of the nation's third largest carrier will be able to rent or purchase a movie (valued at $5.50 or less) for free from VUDU. Also, T-Mobile customers will receive $10 off a purchase from PrideBites. The store carries gifts for pets such as plush beds, and collars that you can buy to match your pet's personality. Besides the $10 discount, you'll also receive free shipping on your order.
If you love BBQ and you're a T-Mobile subscriber, you'll love another freebie heading your way Tuesday. It's a free E-Cookbook called "Dadgum, That's Good." The book contains over 125 professionally tested smoking, grilling, frying, boiling and steaming recipes that will make your BBQ taste terrific. What goes better with BBQ than a yummy sundae from Baskin-Robbins? Purchase a classic sundae and you'll BOGO your way to a second one for just 99 cents.
This week's contest will feature three Grand Prize winners. Each of the trio will win a Masterbuilt Bluetooth Smart Digital Electric Smoker. Thirty-Five First Prize winners receive a Masterbuilt Portable Propane Smoker. Fifty Second Prize winners get a pet gift basket which contains Rufus & Coco Easy Trim cordless trimmers, Rufus & Coco Bone Dry Chamois, Rufus Junior Dog Chew Toys, iFetch Frenzy fetch toy and a Petcube Play Camera.
Lastly, One Hundred Third Prize winners will be able to monitor their pets from afar using their smartphones, and the Petcube Play Camera that they will receive. The camera includes a laser toy that will allow you to play with Rover from a remote location. We should point out that the camera is one of the prizes awarded in the Pet Basket to Second Prize winners.
Overall, the 188 contest prizes have a valuation of $40,599.62. Good Luck!
source: T-Mobile