This coming week, T-Mobile Tuesday will fuel your car and your body
1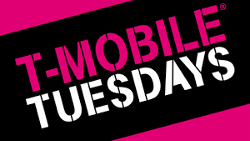 Just a few days away, this coming week's T-Mobile Tuesday has fuel for your car and body. You can save up to $5 at Shell by discounting the cost of gas by 25 cents per gallon for as many as 20 gallons. And if use some sort of alternate transportation like a bicycle, or your legs, you can gift the Shell discount to any of your friends. Besides the car, you can also fuel your body by taking 25% off the regular menu price at Papa John's. This is valid for online pickup orders only.
And there is more pizza coming. Check the T-Mobile Tuesday app every week between February 14th and March 7th. One of those weeks you will get a free one topping large or pan pizza. If the app says that this is your week to receive the free pie, you must place the order online and pick it up yourself. And you can select a free movie to rent (valued at no more than $5) from among the 40,000 titles in the library belonging to FandangoNOW.
Turning to the weekly contest, there will be two Grand Prize winners. Each will receive a check for $5,000 along with an additional one in the amount of $2,143 to cover taxes and other costs. Seventy-Five First Prize winners will receive a $50 FandangoNOW promotional code toward the rental or purchase of content from the FandangoNOW.com website or participating apps. There also will be 375 Second Prize winners obtaining a $25 FandangoNOW promotional code.
Altogether, this week there will be 427 contest prizes awarded, valued at $26,786. Good luck!
source: T-Mobile