The weird mobile phone habits detailed by country (infographic)
5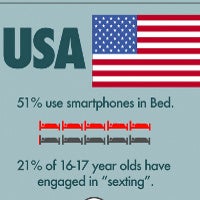 in the States
23% of users will easily text and play games when in a meeting or at school, in the UK 22% would answer their handset even in the bathroom.
You'd also learn some interesting facts like that
70% of all cell phones are made in China
. Is this a low or a high percentage? Depends on your expectations, of course.
In other news, you'd be surprised that in markets like Russia phone penetration reaches the astounding 154% and yet still only 10% of the users have a smartphone.
For the rest of the interesting facts, there's the global phone ownage and use infographic
on the right compiled by SoMobile. It's biggest focus is on the scale of the industry across the globe - not surprisingly, China is the largest phone market with 951,600,000 phones owned followed by India and the States come only third with "only" 327,577,000.
Did you find something surprising in the facts?