The new Apple iPad unboxing and hands-on
30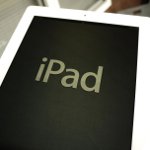 The day has arrived people! The
new Apple iPad
is finally here, ready for that ceremonious unboxing that you're probably starving to see. With that in mind, we didn't hesitate to get started on the ritual, but interestingly enough, it seems and feels oh so familiar right from the onset. Indeed, we're certain that you're familiar with the news surrounding this latest iPad, especially when it's rocking one super
high-resolution Retina display
of its own to put all others before it to shame.
Honestly, we've seen this before. Why's that you ask? Well, that's because the
packaging
of the new iPad is nearly an
exact facsimile
to the one we've seen with its predecessor – the iPad 2. Dominated by that milky white color, it's undeniable an Apple product we're dealing with, even more when the front is plastered with a profile view of the tablet in question. Flip it over to its rear, the only noteworthy thing found on it, is the mention of what version iPad it is – and in our case, it's a white 64GB Apple iPad with 4G LTE connectivity for AT&T. Inside, we're greeted with the
usual assortment of Apple accessories
, like its 30-pin USB cable, wall charger, documentation, and those adorable Apple decals we're used to finding at this point.
So what can we say about this new iPad? For starters, it's nearly indiscernible to actually tell the difference with this one and its predecessor. Although it's
minutely thicker and heavier
on paper, there doesn't seem to be a noticeable difference as we hold onto it, and in fact, it seems like the same
solid feeling
tablet as before – well, that's mainly due to its milled aluminum casing and glass-covered display. No doubt, it's an
iconic look
at this point, but it still proves to be a testament in industrial design.
Turning it on and getting through the setup screens, it's difficult to ascertain the new iPad's superior detail, which as we all know, is carried by its amazing
2048 x 1536
Retina display. As we stare at its sheer prowess, we notice that text seem to float with plenty of clarity and detail – though, we're giddy to find out its true potential. As for the rest of the iPad, it boasts all the same buttons and ports as before – even more, they're found in their usual locations too. However, one huge improvement worth noting is the new
5-megapixel iSight camera
it's flaunting in the rear, sans flash. Even though we feel there are still some awkward feelings regarding taking photos with a tablet, we might not be as concerning this time around because of the expected improvement in quality it should no doubt bring to the table.
Without spilling the beans and going all out regarding this latest iPad, we'll be checking it out more in-depth to give you our full and deep impressions, so expect our review very soon! In the meantime, you can drool over the lovely photos and unboxing video below.