The giant Samsung Galaxy View tablet clears the FCC, headed to AT&T
10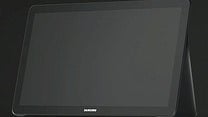 That Samsung is working on a giant, 18.4-inch tablet device is no secret. The Galaxy View, as the device is expected to be called,
was teased a month ago
, during the announcement event for the
Gear S2 smartwatch
. Furthermore, a recent
GFXBench benchmark
revealed a lengthy list of hardware specs for the upcoming slate. And now, we have pretty solid proof that the tablet is headed to AT&T.
The FCC has just approved a tablet identified by the model name SM-T677A. Clearly, the device is tailored to run on AT&T's LTE network, as indicated by the "A" prefix in the name and by the list of supported LTE bands, not to mention that the AT&T logo is clearly seen in a sketch of the slate. The latter also reveals that the Samsung Galaxy View will sport stereo speakers on its back. And could that thing in the bottom left-hand corner be a kickstand?
After digging deeper in the FCC database, we came across the physical dimensions of the SM-T677A tablet. The device is 17.5 inches wide by 10.7 inches tall and has a physical diagonal size of 20.2 inches. That's 447 by 272 millimeters, with a diagonal size of 513 millimeters. As for the tablet's screen size, it measures about 18.6 inches (472 mm) in diagonal.
While the Samsung Galaxy View is not officially official, it is expected to have an octa-core 1.6GHz Exynos 7 SoC, paired with 2GB of RAM and 32GB of storage. The screen is supposed to have a resolution of 1920 by 1080, which is okay, but seems rather low given the size of the device's screen. Android 5.1.1 is on board, skinned in the typical Samsung TouchWiz manner.
There's still no word as to when the Samsung Galaxy View is going to be released, but we're expecting it to launch on time for the holiday shopping spree. Pricing has yet to be revealed.