GFXBench confirms specs of Samsung's monstrous Galaxy View tablet
31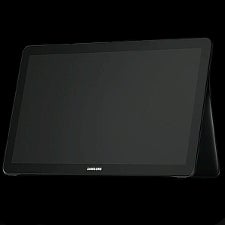 If you're looking for a tablet with a larger display than your traditional slab, then the major players in the mobile game have been busily working to meet your requirements. A couple of weeks back, Apple took the wraps off its powerful
iPad Pro
, featuring a 12.9-inch screen for comfortable multitasking. If you're wanting even more room to maneuver, though, then the
Samsung Galaxy View
might pique your interest. With its mammoth 18.4-inch display, it's relatively peerless in the size department, but according to a specs leak via
GFXBench
, it seems that the performance levels will not be quite so beastly.
The fact that it isn't stacked with high-end hardware makes quite a bit of sense in reality. This slate is not aimed at the specs-hungry consumer looking for the latest SoC and several gigs of RAM. Rather, it's said to be targeted at school classrooms and offices as well as living rooms; places that would potentially benefit from a large, interactive panel.
The resolution of the 18.4-inch display is a mere 1920 x 1080 according to a GFXBench leak revealing all of the key details. Not all that sharp over such a large canvas, but still a full-HD offering for those who want to throw on a movie.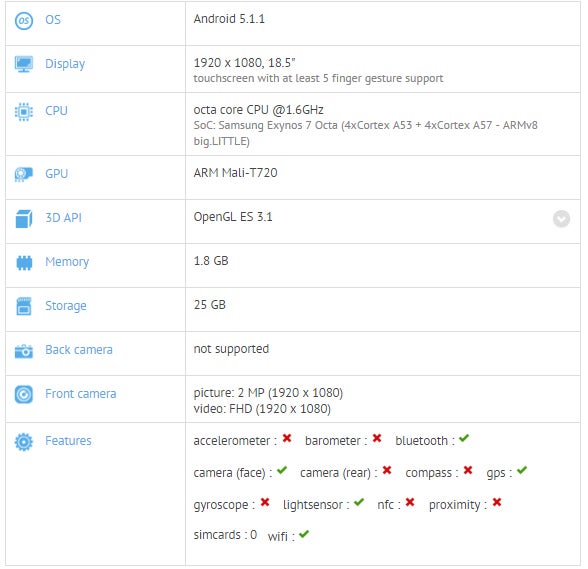 The Galaxy View (SM-T670) is powered by a 64-bit Exynos 7 octa-core processor with Mali-T720 graphics, 2 GB of RAM, and 32 GB on-board, expandable storage. There's no rear camera, but a 2-megapixel snapper on the front, while the battery provides a necessarily large 5,700 mAh capacity.
The specs are in line with what we'd already heard of the device, with a report all the way back in August suggesting that the slate would carry
strong-ish specs
, but nothing to write home about. What with it still being unannounced, some will no doubt hope that the end product is more exciting from a hardware standpoint, but we're not holding our breath.
As for portability, you'll still be able to carry it around, but it's likely to feel a tad unwieldy compared with most other tabs. Measuring in at 451.8 mm x 275.8 mm x 11.9 mm, it's almost half a meter wide, so you probably won't be too popular if you whip it out on the subway(!)
After an initial IFA teaser, the Galaxy View will likely be announced properly in the very near future, so stay tuned for more as it breaks.