The Nokia 5230 – a touch sensitive screen, music and lots of colors
1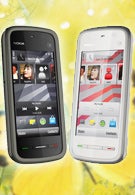 Nokia´s XpressMusic
Series handsets are loved by young people, since most devices come in upbeat shapes and colors and are built with music functionality in mind, something that people with penchant for suits don´t tend to like. The latest touch sensitive screen model by the Finnish company, the 5230 doesn´t belong to the above mentioned family however, despite its flashy face that screams "Teens only! Look at how motley and cool I am!".
The device is well prepared when it comes to music - features a 3.5mm jack, microSD slot with support for cards of up to 16GB capacity and not last, provides 33 hours of continuous audio playback. The handset will also sport a 2-megapixel camera capable of capturing videos at resolution of 640x360 pixels and 30 frames per second and a 3.2-inch display with the same native resolution. High speed Internet connectivity will be provided by its HSDPA 3.6Mbps support.
The Nokia 5230 is based on
S60 5th Edition
OS and will come packed with a myriad of Ovi services and support for social networks such as Facebook, MySpace and YouTube. The phone will roll out in three different versions for the three major markets it´s coming to, i.e. Europe, America and Asia. Its price will probably depend on the particular version, the one featuring full "Nokia Comes With Music" subscription expected to appear at a price of 259 EUR before tax and rebates, while the basic version will be more affordable with its 149 EUR price tag, again before tax and rebates. The handset is expected to hit the shelves in Q4 2009.
source:
Nokia
,
Nokia Conversations