The Apple store goes down as murmur of an inevitable iPad mini with Retina release escalates
4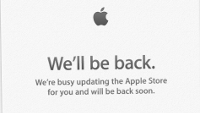 UPDATE: The iPad mini with Retina display is here, starting from $399!
Multiple of our users have reportedthat Apple's webstore has gone down, and we've just confirmed asmuch. It's currently spitting out the usual "We'll be back."message it always does, whenever a maintenance is underway, andperhaps more interestingly – when the Cupertino technology giant isabout to update its site with a new product listing.
What got speculations going this timearound is, of course, the new iPad mini with Retina display, orsimply the iPad mini 2. Apple actually never gave a specific date asto when we might see the new iPad mini, though we were told to expectit in November. In fact, just earlier today, Apple'sGlobal Service Exchange site leaked November 12 as the day we'llsee the iPad mini 2.
Of course, seeing as Apple currentlyhas a number of products in the release pipeline, like a new MacBook,for example, there's no actual guarantees that the iPad Air's smallerkin is indeed on its way. Whether that's the case or not, you canrest assured that you'll be among the very first to know, either way.
source: Apple Store