Apple AirPods: the much-needed evolution of wireless headphones!
77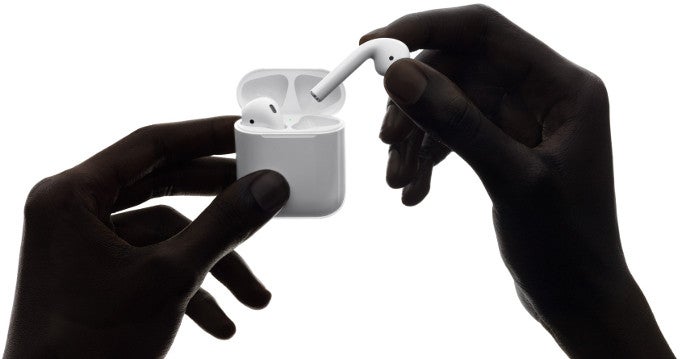 Apple has listed three reasons as to why it had the courage to get rid of the headphone jack — it needed more room for cool tech inside the
iPhone 7
, it was confident that it can deliver quality audio over the Lightning port, and it wanted to improve, instead of avoid, wireless audio. Audiophiles and melomaniacs will tell you that audio over Bluetooth doesn't really sound amazing, but Apple wanted to challenge its limitations. "Your device is mobile, yet you need to tether yourself to it with wires", the company said.
The result of this new endeavor is the first generation of wireless headphones made by the Cupertino company. They are called Apple AirPods and are capable of doing a plethora of neat tricks thanks to smart design choices, a rich assortment of sensors, and a special W1 chip inside them.
They look like the well-known EarPods minus the, you know, wires. Each AirPod has a long shaft sticking out of it, pointed towards the user's mouth. This houses a directional microphone for hands-free Siri interaction and phone calls. "But there are no buttons on the AirPods — how do you answer calls or activate Siri?" you might ask. Just by tapping them – the accelerometers inside can read tap gestures and will have you talking in a jiffy, without having to even take the phone out of your pocket. A special accelerometer in each AirPod detects vibrations from your voice, which activates the microphones for a focused sound, which filters out external noise. Proximity sensors have also been fitted on board to detect when the AirPods are inside the user's ears — that's how you "turn them on".
The W1 chip is what takes care of the sound quality, the coordination between the sensors in each headphone, the collaboration between both AirPods in the set, and the connection to the iOS device in use. It's a very tiny, very energy-efficient chip, and we can't wait to hear how it does in a real-life test. The AirPods connect to your iOS mobile device, Apple Watch, or Mac PC via a simple, one-step process. Furthermore, they are then able to detect which device you are trying to listen to music from and will seamlessly switch between all your paired Apple products.
Battery life is said to be around 5 hours of playback on a single charge. The good news is that the AirPods come with their own battery case, which is extremely compact, yet manages to enhance listening time to up to 24 hours.
And, finally, expect the AirPods to hit the Apple Store shelves in late October, with a price-tag of $160. Interested?
Recommended Stories