The 16GB iPhone 5c can be yours for just $0.97 from a Walmart store nearby, the 16GB 5s goes for $79
21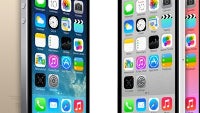 As we are slowly, but certainly getting closer to the official announcement of the next iPhone, it's more than natural that the larger online and brick & mortar retailers are trying to clear up their inventories in anticipation of Cupertino's new device. This is the case with Walmart, as it's now offering the 16GB
Apple iPhone 5c
and
iPhone 5s
for a discounted price as a part of a fire sale. The 16GB iPhone 5s is fetching a $79 price tag, while the 16GB iPhone 5c can be yours for just $0.97. Both devices will bind you to AT&T, Verizon, Sprint, or US Cellular for a period of two years.
This is not the first time Walmart slashes down the price of Apple's smartphones.
Shy of a two months ago
, the store lowered the prices of the iPhone 5c and 5s to $29 and $99, respectively. This applied to the 16GB versions of Cupertino's finest. There is no word on when Walmart's current sale will end, however, so if you are not looking forward to getting the iPhone 6 this deal might be seductive enough.
Apple is rumored to be prepping
two smartphones this year
, too. The
4.7-inch one
could be unveiled at the
September 9 event
, whereas rumors put off the announcement of the other Apple device, the purported
5.5-inch tablet
, to later this year, while some speculations suggest Apple won't unveil it until 2015.
source:
AppleInsider