Tape cassette looking case for the iPhone 4 doubles as a stand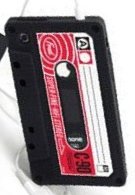 Some would say that the iPhone 4 has that somewhat retro look with it, even when Steve Jobs blatantly compares it to an old fashion Leica camera, but there's one neat looking accessory that will cement its nostalgic feel. Although it's not yet available for purchase, this neat audio cassette looking case for the iPhone will handsomely protect your handset while exuding those long forgotten tape cassettes.
The company responsible for the case, Fred and Friends, says that the silicone cover, much like others out there, will go around the handset and is then placed into the little tape box it comes packaged with. Now the neat thing is that it doubles as a stand which will essentially allow you to watch videos or other content on your iPhone 4 without holding it. So who really needs a kickstand like something that's found on the HTC EVO 4G when you have this retro looking case that acts as one as well. If you're interested, it should start to ship some time in October for a reasonable $20.
Apple iPhone 4 Specifications
|
Review
via
TUAW