T-Mobile's G2 will have the new Snapdragon inside, sorry, not the dual-core one
2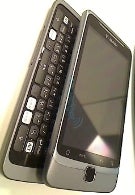 It looks like the
G2
, successor of the iconic first Android handset the
G1
, will be actually having a distinctive feature to set it apart from the competition. A software dump revealed some major spec details, the most notable of which is that T-Mobile's G2 will be run by a
Snapdragon chipset made with the 45nm technology
.
The MSM7230 runs with speeds up to 1GHz, but, what's more important, is that it includes the new graphics unit Adreno 205, which should notably improve 2D/3D performance over the previous Snapdragon generation. Thus HD video encoding and decoding with 720p at 30fps comes standard, as well as HDMI-out capabilities.
Other phones with 45nm chipsets currently on the market are the
Droid X
and
Droid 2
, with their TI's OMAP family inside, and the
US carrier versions of the Samsung Galaxy S
with Samsung's Hummingbird chipset. The Hummingbird has the best GPU of them all, but what will see the biggest gain from moving to the 45nm Snapdragon is most likely the battery life, since that's what we are observing with the OMAP and Hummingbird-based handsets.
Also, the T-Mobile G2 will be running Froyo upon launch, so with the new chipset supporting the HSPA+ download speeds, it will be one of the fastest Android experiences on the market, at least until a dual-core phone is announced.
T-Mobile G2 Preliminary Specifications
source:
AndroidGuys