Next Tuesday, T-Mobile subscribers get free pizza to go with their tacos and coffee
3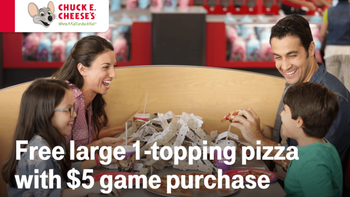 T-Mobile has a larger than usual number of discounts and giveaways that will be available to its subscribers next Tuesday. It's all part of the carrier's weekly T-Mobile Tuesday promotion, which this coming week will include a sweepstakes. One grand prize winner will be sent to New York City with a friend to see Ariana Grande in concert at Madison Square Garden on June 18th. It is part of a three-day, two night trip to the Big Apple that includes air fare, hotel stay, and transportation to and from the event. And with meet and greet tickets included, the winner will be able to say hello to the singer in person.
To enter the sweepstakes, T-Mobile subscribers need to open the T-Mobile Tuesday app on their iOS and Android phones. Non-subscribers can enter next Tuesday by going to the amoe.tmobiletuesdays.com website. The grand prize also includes a $500 check for meals (which might get you past breakfast in NYC) and a $1,628 check that can be used to pay taxes on the prize, or for anything else the winner wants to spend it on.
Meanwhile, next Tuesday T-Mobile subscribers can score a free large one-topping pizza at Chuck E. Cheese with a purchase of $5 in game tokens. Other discounts and giveaways include:
$15 off select items and free shipping from 1-800-Flowers.
A free taco from Taco Bell.
$4 movie ticket from the Atom app.
Reserved tickets to see Ariana Grande from Live Nation.
Free 8 x 10 collage print from Walgreens.
10 cents off a gallon of gas from Shell (up to 20 gallons per week).
Free medium latte from Dunkin'.