T-Mobile set to launch the BlackBerry Priv on January 26th
15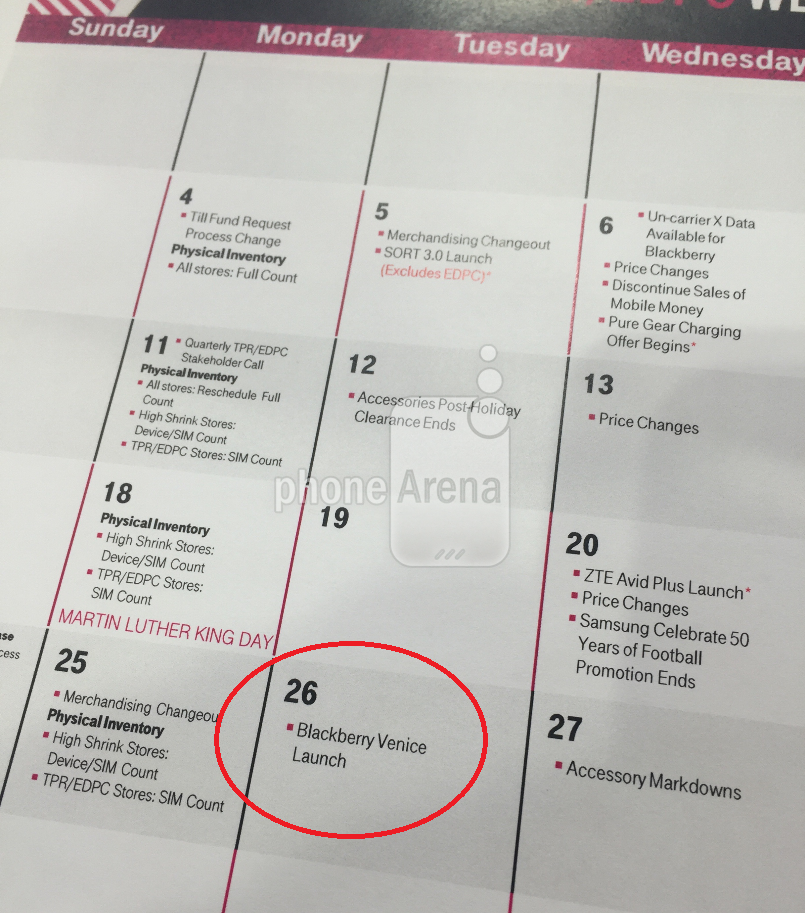 T-Mobile will launch the BlackBerry Priv on January 26th
One of our loyal PhoneArena readers has just sent us what appears to be a January 2016 calendar of activities for T-Mobile. We call your attention to the entry for January 26th, which shows that to be the date of the BlackBerry Venice launch for the carrier. Venice was the code name originally used for the
BlackBerry Priv,
which is the Android powered slider manufactured by the company.
Currently, those in the U.S. wishing to pick up the device have to purchase it unlocked from the BlackBerry, Walmart or B&H Photo websites, or locked down from AT&T.
A Verizon version of the phone has just visited the FCC
, and Big Red has
already sent out a tweet saying that the Priv will be coming soon
.
T-Mobile hasn't been so open about whether it plans on offering the slider. Back in November,
the carrier was said to be in talks with BlackBerry over the device
. Since then, we've heard nothing. That is, until this tip just crossed our inbox.
Other events mentioned on the calendar include the launch of a phone called the ZTE Avid Plus on January 20th, the same day that some price changes are apparently due to take place at T-Mobile.
Thanks for the tip!