T-Mobile reports Q2 earnings, adds 1.1 million new accounts from first quarter
3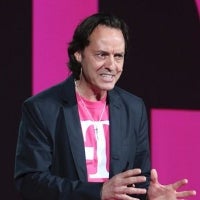 T-Mobile reported its second quarter earnings on Thursday morning. With two months of MetroPCS numbers included (May and June) the carrier
led the industry
during the three month period with 685,000 net new branded post-paid phone accounts. T-Mobile had a total branded post-paid net addition of 688,000 new accounts from April through June. That represented an improvement of 1.2 million net branded post-paid additions year-over-year. The mobile operator gave credit to a record low branded post-paid churn of 1.58% in the period. At the end of the second quarter, T-Mobile had 44 million customers, up 10 million sequentially. However, 8.9 million of those accounts came from the acquisition of MetroPCS.
During the quarter, on April 12th, T-Mobile started selling the
Apple iPhone 5
. Not including MetroPCS, the iPhone accounted for roughly 29% of T-Mobile's branded gross customer additions and upgrade smartphone sales. Other smartphones also sold well in the quarter including the
Samsung Galaxy S4
. The carrier sold 4.3 million smartphones in the quarter, representing 86% of all handsets sold in the period. In the 2012 period, 71% of all handsets sold were smartphones.
As of July 10th, T-Mobile had LTE service up and running in 116 metro markets covering
157 million people
. This means that T-Mobile is ahead of its mid-year target of reaching 100 million people. The goal before the end of the year is for T-Mobile's LTE signal to reach 200 million people. T-Mobile also helped MetroPCS double its presence to 30 markets from 15 markets. MetroPCS customers are experiencing data speeds as much as 7 times faster than they previously had before the deal with T-Mobile closed.
For the quarter, T-Mobile reported EBITDA of $1.1 billion. Second quarter revenue rose 7.9% year-over-year led by the strong smartphone sales. With more customers electing to go with the Value and Simple Choice plans (50% as of June 30th), the branded postpaid ARPU dropped in the quarter by 6.5% to $53.60.
"T-Mobile's Un-carrier approach has clearly resonated with consumers. By fixing the things that drive them mad, like contracts and upgrades, and freeing them from the two-year sentences imposed on them by our competitors, they are choosing the new T-Mobile in unprecedented numbers. We are just beginning and we will continue to apply this innovative thinking to the Un-carrier offers we create and to the internal operations of our company, which taken together are driving significant shareholder value creation."
-John Legere, President & CEO, T-Mobile
source: T-Mobile