T-Mobile partners up with 7-Eleven in providing cheapo cellphones to the masses
3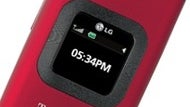 What do T-Mobile, the nation's fourth largest wireless carrier, and 7-Eleven, the well-known chain of convenience stores, have to do with each other? Well, just a few days ago, there wouldn't have been much of a reason for one to use these companies' names in the same sentence, yet starting today, things will not look quite that way anymore.
T-Mobile and 7-Eleven have officially announced that they are partnering up
in providing a cheap and convenient way for pretty much anyone to become a T-Mobile user. Effective immediately, the budget-friendly
LG GS170
will be available in participating 7-Eleven outlets nationwide and will be priced at the affordable $30 off contract. What makes the offer even more tempting is that by the end of August, the GS170 can be grabbed at 50% off as long as one purchases a $50 airtime card along with it.
Something tells us that if the T-Mobile-7-Eleven partnership takes off well, we can expect seeing more cheapo T-Mobile handsets popping up at the home of the Big Gulp. However, if cream of the crop smartphones are your cup of tea, you will most probably have to look for them someplace else.
source: T-Mobile