Boomers can get two unlimited lines for only $55/month from T-Mobile
7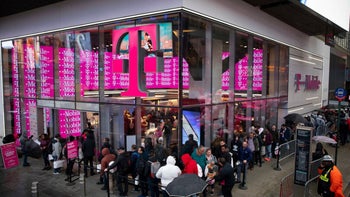 If you're 55 or older, T-Mobile has a new unlimited wireless plan for you. The carrier announced today that starting tomorrow, it is launching T-Mobile Essentials Unlimited 55. Two lines are $55/month (with autopay) for unlimited talk, text and high-speed data. Subscribers also can participate in T-Mobile Tuesdays, take advantage of unlimited 3G hotspots and view streaming video at 480p (SD). The plan allows you to text when out of the country, and use 2G data in Canada and Mexico.
Yes, those 55 and older are no longer using feature phones with huge buttons and limited capabilities. And with the addition of Essentials Unlimited 55, T-Mobile now has three unlimited plans for those born in 1964 or earlier (which of course is the year that the Beatles first came to America). The Magenta Unlimited 55 plan is $70/month for two lines with autopay. This plan adds 3GB of 4G LTE mobile hotspot data, 1-hour of inflight Wi-Fi, and 5GB of 4G LTE data in Canada and Mexico. The Magenta Plus Unlimited 55 plan is $90/month for two lines with autopay. This bumps video streaming to 1080p (HD), adds unlimited in-flight Wi-Fi, Netflix on US and 20GB of 4G LTE mobile hotspot data.
"Boomers are the generation that invented wireless, yet the carriers continue to completely patronize and insult us. At T-Mobile, we've got the industry's best unlimited plans for those 55 and up, and we'll continue making our customers the happiest in wireless. No matter which state they call home."-John Legere, CEO, T-Mobile
With all three plans, users who consume more than 50GB of data during the month could have their data speeds throttled. But this only takes place during periods of network congestion.