T-Mobile is giving subscribers a free timely gift this coming week
6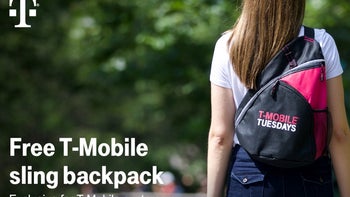 While it is still July, for a few days anyway, we are just weeks away from the beginning of the 2019-2020 school year. We heard that cheer from the parents out there, and the Bronx cheer (Google it) from the kids. T-Mobile is getting into the swing of things by giving away a free sling backpack this coming week with its weekly T-Mobile Tuesdays promotion. Each backpack is embroidered with the "T-Mobile Tuesdays" name.
Other freebies and discounts coming this Tuesday with the T-Mobile Tuesdays app include:
Pick one free item from Taco Bell. Choices include the Nacho Cheese Doritos Locos Taco, a Grilled Breakfast Burrito, and a Mountain Dew Baja Blast Freeze drink.
Purchase reserved seats for the Jonas Brothers and other Live Nation concerts.
$25 All-In tickets to some Live Nation concerts.
$25 to use at the Overwatch League Shop.
A ten-cent discount on a gallon of gas at Shell.
Sadly, there is no sweepstakes this week although T-Mobile subscribers can claim their gifts and discounts from the T-Mobile Tuesdays app. The app is available from the
App Store
and the
Google Play Store
.
Now that it appears that the T-Mobile and Sprint merger will eventually close (possibly late this year or early next year), we wonder whether T-Mobile plans to make any changes to this program. Adding millions of customers from Sprint could force T-Mobile to revise T-Mobile Tuesdays which debuted on June 6th, 2016.