T-Mobile announces holiday handsets
7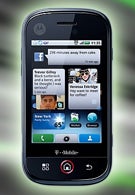 Today, T-Mobile announced its holiday-season offerings that include two previously unheard handsets. To start with, there will be a special limited edition of the
myTouch 3G
, designed for music lovers. The
T-Mobile myTouch 3G Fender Limited Edition
will sport a guitar-inspired wood-grain finish, but that's not all about it. It will come with a 3.5mm jack for richer music experience, a 16GB memory card and exclusive pre-loaded videos and music from popular artists.
Next up, we have two already expected Android devices – the MOTOBLUR-powered
Motorola CLIQ
and the TouchWiz-running
Samsung Behold II
. The Behold II should become available later in the year, but hasn't been set with a firm launch date, while the CLIQ should be launched nationwide on November 2.
Finally, two new phones have just been announced by the carrier. The first one will be available later this year - the
T-Mobile Tap
, which is said to be a fashionable touchscreen device with a 2MP camera, GPS, stereo Bluetooth and 3G support. The
Nokia 3711
will pack similar features, but will be a clamshell with a stylishly hidden external display. It will be running on the Series 40 interface and will have a 2MP shooter, stereo Bluetooth, GPS and 3G. The Nokia 3711 should be available in the following weeks.
source: T-Mobile
Images courtesy of CNET.