T-Mobile Tuesdays focuses on Halloween for the next four weeks
5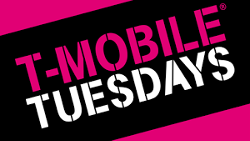 T-Mobile is getting subscribers to the nation's third largest carrier, ready for Halloween. The giveaways and prizes start this coming Tuesday, October 10th, and continue for the subsequent three Tuesdays. That takes us right up to October 31st, Halloween Day. This coming Tuesday, T-Mobile customers clicking on the T-Mobile Tuesday app will receive 25% off any order placed with HalloweenCostumes.com and also earn them a shot at winning a $25 or $200 gift card. There also will be a Twitter contest to determine the winner of a $5,000 shopping spree at HalloweenCostumes.com. Imagine the costume you can create with that kind of financial backing behind you.
The following week, October 17th, T-Mobile subscribers will receive 60% off any single item at JOANN Fabric and Craft stores. The stores carry a large inventory of material and tools that can be used to manufacture a Halloween costume. And on October 24th, T-Mobile subscribers can stop into their local retail location and pick up a free T-Mobile-magenta Halloween cape.
And that takes us to Tuesday, October 31st, Halloween. For that special day, T-Mobile subscribers get 10 free photo prints from Walfreens. And one contest winner will be flown to London to visit the scariest sites in the country. According to T-Mobile, this includes "ancient tombs, spooky museums and themed tours."
And there's more. Each Tuesday through the end of this month, T-Mobile subscribers will receive discounts on treats from Dunkin Donuts, $2 gift cards to use at Baskin-Robbins, free movies to rent from VUDU and Redbox, and free rides from Lyft. All you need to do to receive the weekly giveaways is to download the T-Mobile Tuesdays app. Of course, the giveaways are for T-Mobile subscribers only. You do not have to be a T-Mobile customer to enter the weekly contests.
Download the T-Mobile Tuesdays app by clicking on the appropriate link (
iOS
|
Android
)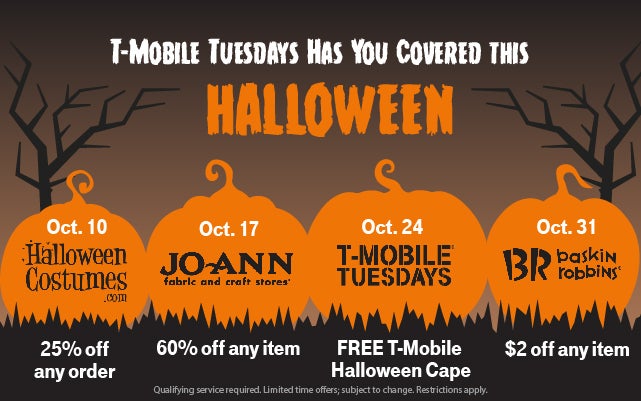 T-Mobile Tuesdays road map taking you to October 31st, Halloween Day
source: T-Mobile